Today I read an article about Cὸsagach. It would appear that with the hype of Hygge I completely missed out on the Scottish version which, if you know or have even met me briefly, surprises me as much as it does you.
According to Visit Scotland Cὸsagach means "snug, sheltered or cosy" and it struck me, as we enter the autumn season, this is the perfect description for The Peat Inn. If you have seen our adverts in magazines and newspapers, you will be familiar with the line "log fires and a warm welcome await you". This epitomizes what we offer at The Peat Inn and I think Cὸsagach.
From your arrival at "The Residence" to a warm welcome, cold and weary from your day exploring the Fife coast and countryside, unwind and soak in one of our deeply indulgent baths enjoying the complementary Noble Isle toiletries with a warming glass of sherry and a homemade chocolate brownie. Relaxed and refreshed, you're ready for an evening of fine food and drink.
We are delighted to have maintained our Michelin star for the eleventh consecutive year. The Peat Inn offers an understated, relaxed dining experience. We want our guests to enjoy the experience of dining with us and feel special without the service feeling stuffy and formal. The Restaurant has two original fires, one of which graces the lounge with its original stonework and warm amber glow. It is the perfect spot to peruse the selection of menus on offer and pour over the extensive wine list before being seated in the dining room.
After dinner, return to the lounge and the roaring fire, snuggle up to one another with a brandy, or even better, the water of life…a whisky from our comprehensive list before returning to the warmth and comfort of your suite.
A wholesome continental breakfast is served to your room in the morning at your chosen time. Wrap yourself in a Peat Inn dressing gown and enjoy the delights of the hot coffee and croissants with the special touches such as the Gigha smoked halibut and Anster cheese before a leisurely 11am check out and fond farewell.
As you depart, I am sure your will be taking with you the feeling of Cὸsagach, it's something you have to feel and experience. Life is all about experiences, make sure The Peat Inn is one of them.
Fiona  Office Manager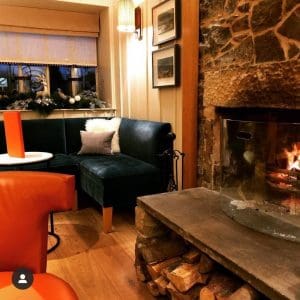 There were so many images that I couldn't decide.  Visit our social media and have a browse!